---
Self-Esteem: A Primer is a psychotherapist's intellectual approach to completely changing the face of self-esteem and many related issues and disorders. In challenging our preconceived and socially-accepted notions of self and others, this clear and concise book aims to tear down both conscious and unconscious negative impulses, leading to self-acceptance and true happiness.

The book incorporates thoughts, concepts and strategies used by Yehuda Lieberman, LCSW in his private practice. The book is modeled on his individual psychotherapy sessions, using his years of experience in changing lives through self-esteem.
ForeWord Clarion Review Gives Self-Esteem: A Primer Four Stars.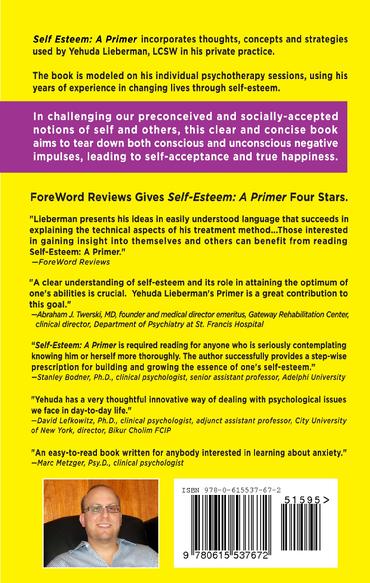 ---
Self-Esteem: A Primer is available at Amazon.com.

REVIEWS
"Lieberman presents his ideas in easily understood language that succeeds in explaining the technical aspects of his treatment method...Those interested in gaining insight into themselves and others can benefit from reading Self-Esteem: A Primer."
—ForeWord Clarion Review

"Self-Esteem: A Primer is required reading for anyone who is seriously contemplating knowing him or herself more thoroughly. The author successfully provides a step-wise prescription for building and growing the essence of one's self-esteem."
—Stanley Bodner, Ph.D., clinical psychologist, senior assistant professor, Adelphi University


"Yehuda has a very thoughtful innovative way of dealing with psychological issues we face in day-to-day life."
—David Lefkowitz, Ph.D., clinical psychologist, adjunct assistant professor, City University of New York, director, Bikur Cholim FCIP


"An easy-to-read book written for anybody interested in learning about anxiety."
—Marc Metzger, Psy.D., clinical psychologist


"A clear understanding of self-esteem and its role in attaining the optimum of one's abilities is crucial. Yehuda Lieberman's Primer is a great contribution to this goal."

—Abraham J. Twerski, MD, psychiatrist, author, founder and medical director emeritus, Gateway Rehabilitation Center, clinical director, Department of Psychiatry at St. Francis Hospital